Make your prediction and share it with your friends!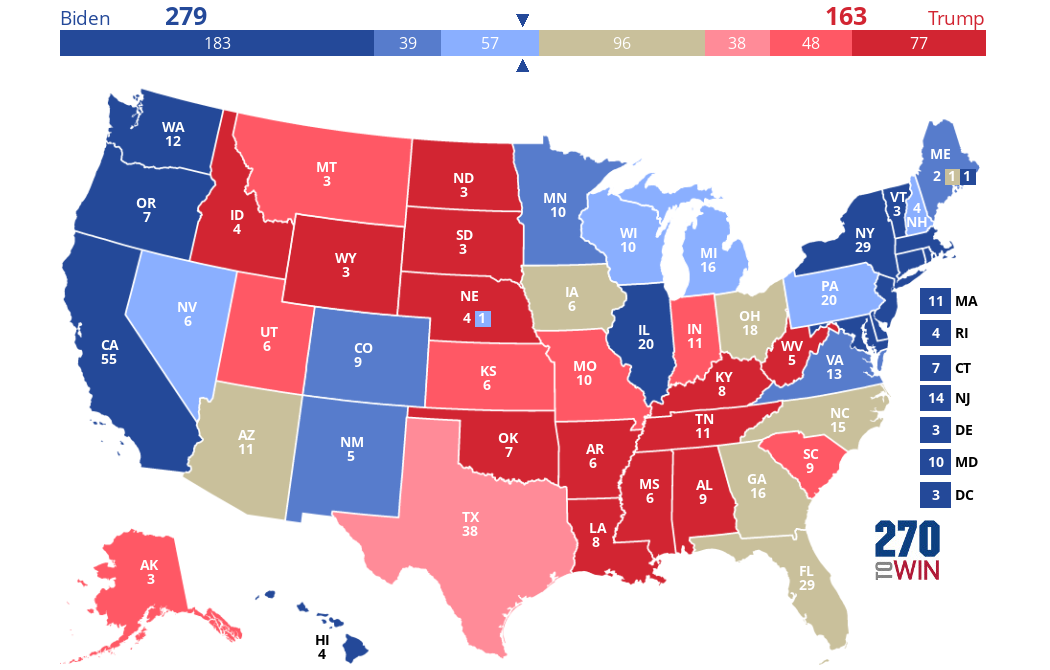 Click the map to create your own at
270toWin.com
#election #biden #trump #BidenHarris
The runaway Trump train has not only let Trump trample the American Constitution but has also skidded onto foreign rails. That could not have happened without a groundwork laid by Russia.
Trump began his run for the US Presidency as a social renegade. He descended the glitzy escalators of his gaudy tower by labeling Mexicans he didn't like as rapists and drug runners. He fought his way to the Republican nomination by trashing and mocking his opponents. With outside help he won the prize and his track record of nastiness has gained speed as the law proved no check on his quest for personal gain with the mighty powers of his position.
American forefathers could not foresee a conman like Trump heading the country but even so they set up a system of checks and balances among three branches for the government. One made the law, another put it into practice and a third mediated in the case of conflict. That in itself was foresight from white men to whom "all men" referred to white male landowners. Laws since then have clarified the intent. New laws will have to clarify further after Donald Trump.
Trump is the first American President to defy the Constitutional norma. He has done this by exploiting a supersonic world. He has made a Tweet carry the weight of a Presidential decree, thus throwing out the cumbersome process that distilled the national position both at home and abroad. He has remade the Presidential seat of power into that of Trump. creating an enabling base for unchecked decrees to outlying train depots the world over.
[…]